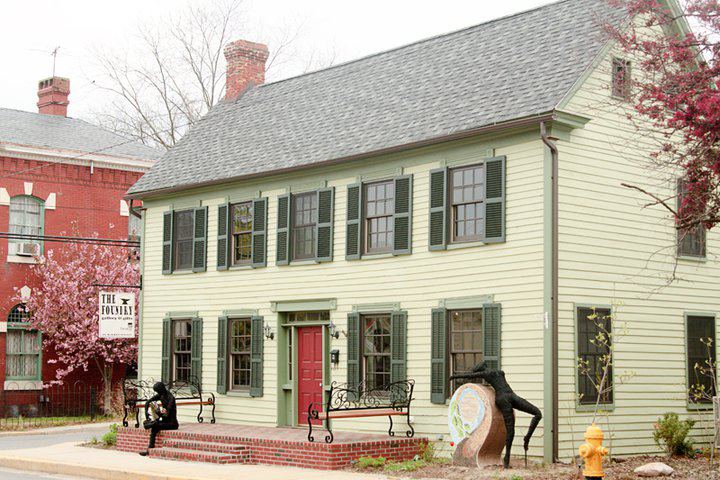 We're celebrating the 40th anniversary of the CCCA, ya dig?!
Put on your boogie shoes and join us for an evening at the Fretterd Community Center in Denton, commemorating the achievements of the arts council since it was established in Caroline County in 1977. There will be fun and games, food and drinks, and of course, an opportunity to shake your groove thing on the dance floor! Get your hustle on in your best '70s attire for our costume contest!
We'll be recognizing our members, volunteers, board members and program participants (both past and present), and offering 50/50 raffle tickets, discounted memberships, a basket raffle to benefit the CCCA & its programs, and so much more!
'70s Inspired Catering by Chesapeake Culinary Center!
Heavy hors d'oeuvres and food stations with the following delicious items – Mini Quiches, Asparagus in Filo, Cheese Fondue, Chocolate Fondue, Crab Dip, Spinach Dip, Cranberry Meatballs, Beef Brisket Sliders, Pesto Chicken Skewers, Cheese & Charcuterie, Fresh Veggies, Hummus & Pita, Tomato – Mozarella & Basil Skewers, Cocktail Franks, Assorted Desserts, Water Iced Tea & Coffee! (Drink tickets available for our signature '70's inspired cocktails as well.)
Rise Band & Show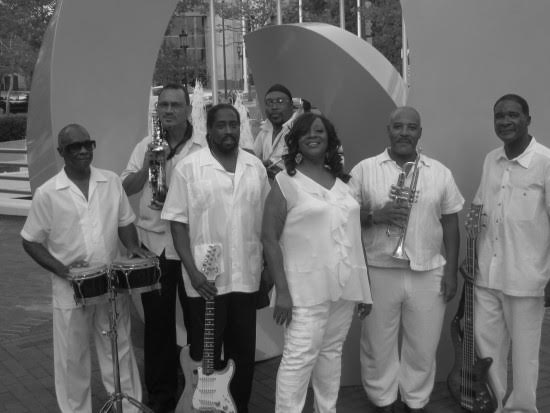 A fun and lively up beat band that has lots of energy on stage and electrifies the crowd on the dance floor when it's party time. Playing '70s sounds, this 8-piece band will "rise" you out of your seat and put you on the dance floor! Through the years, some of these musicians have played for the "Duke of Earl" Gene Chandler, The late great Percy Sledge, The late great Little Sonny Warner, Roy C., Chick Willis and they also open up for the Temptations Review whenever they come in town.
CLICK ON EACH IMAGE BELOW TO READ MORE!
77 Reasons to Celebrate 40 Years of the Arts in Caroline
Reason #27: CCCA is governed by a volunteer board of directors who attend monthly board meetings and participate in committee work that ensures the successful running of the organization. Pictured: CCCA directors at our board retreat in 2010. #CCCAsince77

Reason #26: For many years, CCCA produced 2nd Story Live, a coffeehouse concert series on Saturday evenings, featuring folk and bluegrass music at the second story stage of the Central Library in Denton. #CCCAsince77

Reason #28: In 2012 CCCA assisted in the development of the Denton Community Demonstration Garden which is located in the Artsway in downtown Denton. In addition to demonstrating gardening techniques, it also provides outdoor classroom, performance, and public art space for the community. #CCCAsince77

Reason #29: CCCA has Paint Night at The Foundry on the Third Thursday of each month. A variety of classes are now offered by Foundry artists. Check the CCCA events calendar at carolinearts.org for a full listing. #CCCAsince77

Reason #24: CCCA hosts a Literary Evening celebrating the life and works of a different renowned writer each year. Past authors include ; J.R.R. Tolkien, Edgar Allen Poe, Agatha Christie, Jules Verne and H.G. Wells. #CCCAsince77

Reason #25: Caroline County Public Schools has been an active participant with the CCCA for many years as a program partner and ex-official member of our board of directors. #CCCAsince77

Reason #12: The Caroline County Public Library has been an active participant with the CCCA for many years as a program partner and ex-officio member of our board of directors. #CCCAsince77

Reason #20: CCCA past programs include the Annual Burns Supper, replicating a Scottish tradition more than 200 years old that celebrates the life and works of poet Robert Burns. #CCCAsince77

Reason #19: CCCA past programs include Noontunes; a free lunch time concert series on the courthouse green in Denton. #CCCAsince77

Reason #21: CCCA hosts an annual community block party. A free family-friendly event celebrating the Arts in Caroline County. #CCCAsince77

Reason #18: CCCA past programs include a Youth Art Show representing over 200 Caroline County students, grades K-12. #CCCAsince77

Reason #16: In 2006 CCCA established a scholarship fund in honor of Mark Grande, who was the CCCA Executive Director before his death in 2005. The fund helps graduating Caroline County students who are pursuing studies in the performing & visual arts. #CCCAsince77

Reason #22: CCCA past programs include our fun Masqued Ball fundraising event at the Fretterd Community Center. #CCCAsince77

Reason #23: CCCA participates with our Eastern Shore counterparts in "Eat.Drink.Buy Art.", an award winning trail guide that promotes visits to Delmarva art towns, including Denton, Md. #CCCAsince77

Reason #17: CCCA past programs include free performances on the Denton Courthouse Green by the Maryland Shakespeare Company. #CCCAsince77

Reason #13: Maryland Citizens for the Arts (MCA) has been advocating for state arts funding for 40 years and is responsible for Maryland Arts Day where we meet with our representatives in Annapolis to confirm the importance of the arts in our community. #CCCAsince77

Reason #14: The Caroline County Recreation and Parks has been an active participant with the CCCA for many years as a program partner and ex-officio member of our board of directors. #CCCAsince77

Reason #15: In October 2014, CCCA brought an award winning line up of musicians to the NCHS stage for a special evening of bluegrass, entitled Grassroots. #CCCAsince77

Reason #10: CCCA's Arts in Education program provides funding for artists in residence, bringing live, interactive performances and lessons to both of Caroline County's middle schools. #CCCAsince77

Reason #4: CCCA's free performing arts series, Friday Nites in Caroline, originally known as Carnival in Caroline, has been bringing critically acclaimed acts to our community since 1988, close to 30 years! #CCCAsince77

Reason #3: CCCA commissioned the Musician and the Muses public art project in 2009 to welcome people to the Denton Artsway. #CCCAsince77

Reason #8: August 2012, CCCA opens the Fiber Arts Center of the Eastern Shore (FACES), a regional destination with exhibit, retail, studio, and instruction spaces for the area's many quilt and fiber art enthusiasts, visitors, and residents. #CCCAsince77

Reason #9: CCCA exists, in large part, due to an annual community arts development block grant from the Maryland State Arts Council (MSAC). MSAC has a celebrated history of commitment to innovation, collaboration and leadership in the arts reaching back four decades. #CCCAsince77

Reason #7: In 2014, CCCA published "Story Tellers: Stories by Writers from Caroline County, Maryland", selected from over ten years of winning entries from our Annual Short Story Contest (2002 - 2014) and from submissions from our WriteOn! writers group. #CCCAsince77

Reason #5: Established in 2005 to help revitalize downtown Denton, the Denton Artsway, a state designated Arts & Entertainment district covering the historic downtown commercial area, is managed by CCCA. #CCCAsince77

Reason #11: Installed in 2013, the Stitching Stories of Freedom Byway Quilt Trail public art project includes 15 quilt block replicas on (or near) historic structures along the Harriet Tubman Underground Railroad Byway in Caroline County. #CCCAsince77

Reason #6: CCCA assists Caroline County artists by coordinating exhibits, administrating retail space, hosting our online artist directory, facilitating instruction and performance opportunities, and providing other programs and resources. #CCCAsince77

Reason #2: CCCA's community arts center project renovated the historic Wilson's Foundry Dwelling into The Foundry community art gallery and CCCA headquarters. #CCCAsince77

Reason #1: CCCA has been a proud sponsor of Caroline Summerfest for over 25 years! #CCCAsince77