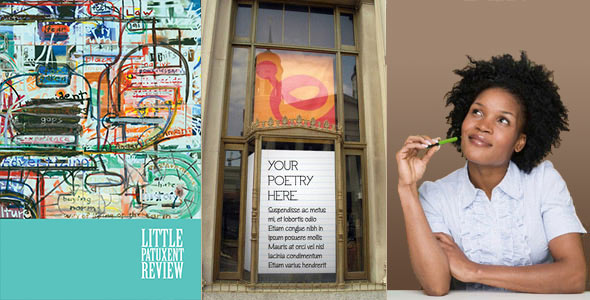 Maryland poets, this FREE contest is for YOU!
The winning poem will be published in Little Patuxent Review, enlarged for display in a Central Library show window, and honored at a reading at the Central Library. Runners-up may be considered for publication in Little Patuxent Review.
Contest Rules
Entrants must be Maryland residents, 18 or older.
Paid or volunteer staff of the Enoch Pratt Free Library and Little Patuxent Review and their immediate families are not eligible, nor are previous Pratt Library Poetry Contest first-place winners.
Please send only one original poem, on any theme and in any form, for consideration.
Your entry must be unpublished, either in print or on the Web, including personal blogs, Facebook, or Twitter. It cannot be currently under review for possible publication.
Your entry must not exceed 100 lines.
Submit your typed entry as a Microsoft Word attachment by e-mail to contest@prattlibrary.org
or by mail to:
Poetry Contest, Fiction Department, Pratt Library, 400 Cathedral St, Baltimore MD 21201-4484
Entries received after March 1, 2018, will be disqualified.
Name, address, phone number, and the submitted poem's title must accompany the entry on a separate page. Please do not put your name, address, and phone number on the entry itself.
Confirmation of receipt and comments on your entry will not be provided, nor will your entry be returned to you.
For the purpose of display in the Pratt Central Library window, the winning poem may be excerpted.
The winner will be announced in mid-April. For more information, click here.